Evidence the rabid swamp monsters pushing impeachment swallowed the globalists totalitarian agenda hook, line and sinker
Pencil neck Adam Schiff turned all the innuendos, presumptions, and lies to the House Judiciary Committee to further the partisan agenda. Now that the information had been made public, we find that the "bribery," a tested poll term is not mentioned in the report.
(Article by John C. Velisek republished from AllNewsPipeline.com)
The report also does not lay out any precise grounds for impeachment. Abuse of power is mentioned, but even as Cass Sunstien of the Obama administration declared in 2017, abuse of power is not grounds for impeachment. Ignored in the abuse of power accusation, is that even witnesses agreed that Ukraine had "bet on the wrong horse" in 2016. Nothing in the report shows any specific grounds for impeachment.
There was much hand wringing over the firing of Ambassador Yovanovitch even though even President Zelensky did not have any confidence for her. She was also deficient in any investigation of Burisma during her time as Ambassador.
Yesterday, it was being taken as fact that Gordon Sondland said that the White House meeting was conditional on investigations. Sondland later admitted that he "presumed that was the case as he had no first-hand knowledge". This was supposed to be a part of the "quid pro quo" that the progressive socialist Democrats are trying to convince the American people was impeachable even though President Zelensky felt no pressure and has said so many times in public.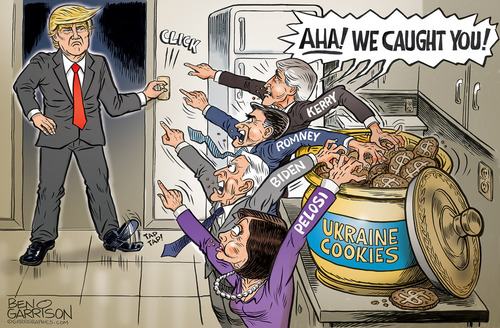 The HJC is claiming "obstruction of justice" because the President affirmed the executive privilege to have members of his administration not testify. They are falsely claiming obstruction on an impeachment inquiry that had not been voted on and is partisan in the extreme.
Now they are in a hurry to impeach the President without mediating the balance of power disputes in the judicial branch. The White House has grounds that caused the non-compliance, close secret door hearings, selective leaks by Schiff and his cronies, no formal authorization, or compliance with standard impeachment protocol.
The 'progressive socialist leftists' (COMMUNISTS!) whine about the abuse of power for implementing an agreement between the U.S. and Ukraine to investigate corruption. They claim that it is an abuse of power because Job Biden was mentioned during the call.
I noticed that the Democrat's counsel used the same dodge that the media and leftists have made a talking point. He stated that President Trump asked for a favor and then directly went into talking about Biden, Hunter, and Burisma.
This leaves out the truth that the discussion about Biden was about Burisma and the corruption with the Bidens. And there was a good five minutes between the favor being asked which concerned Crowdstrike, the corrupt company that investigated the DNC hacked computer.
Read more at: AllNewsPipeline.com
Submit a correction >>