---
GiveSendGo
 cofounders Heather Wilson and Jacob Wells say an investigation has been opened to find the culprits who hacked their website during fundraising efforts for the Freedom Convoy protest against COVID-19 vaccine mandates.
(Article by Masooma Haq and Roman Balmakov republished from TheEpochTimes.com)
"There is an ongoing investigation right now to bring those perpetrators to justice and make them accountable to the law, because what was done was illegal," Wells told EpochTV's "Facts Matter" program.
"We've got forensic teams as we speak working on tracing all of this out, figuring out how in the world could it happen. … It is interesting that this hacker, who's named himself online, has connections to Canadian intel and doing work for them in the past, and the group Anonymous—a very high level sophisticated orchestrated attack against GiveSendGo."
Wells said they haven't seen any coverage from legacy media about the denial-of-service (DDoS) hack that targeted their company last month during a fundraiser for the Canadian trucker protests. What's worse, some of the people who donated to the campaign have been identified and harassed.
"Well, the media really hasn't approached us about—especially about the piece of who was the hacker," Wells said.
The Freedom Convoy 2022 organizers created the fundraiser on GiveSendGo after rival fundraising platform GoFundMe blocked potential donors and attempted to seize more than $8 million in funds.
"And so they came to GiveSendGo and started a campaign, and immediately our site was hacked—or a DDoS attack is a better word for it. So within that first 24 hours, we had over 10 million DDoS attacks on our site," Wilson said.
A DDoS attack is a covert effort to upend the normal traffic of a specific server, service, or network by inundating it or its surrounding infrastructure with a torrent of internet traffic.
"We had a hard time even getting the site up because people were attacking, overloading our database. … The next morning, we looked and that campaign (Freedom Convoy 2022) had raised over $2 million in 24 hours," said Wilson. "That is simply a God thing, because there's no way a site that we couldn't even get to would be able to process that amount of money with the amount of attacks on it."
[caption id="" align="alignnone" width="600"]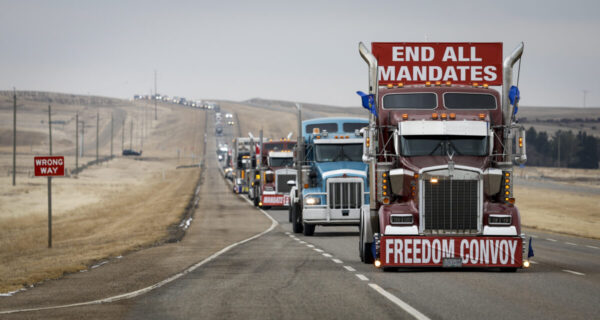 Protesters in a truck convoy leave the Canada–U.S. border crossing after demonstrating against COVID-19 mandates for over two weeks, in Coutts, Alberta, on Feb. 15, 2022. (Jeff McIntosh/The Canadian Press)[/caption]
"Right now the funds are in a U.S.-based bank, waiting as the trucker convoy works out legal options to get the money," Wilson said. "It is safe, people are still donating, people are still behind this convoy."
Wilson and Wells say their company's guiding principle is freedom, as well as the rights laid out in the nation's founding documents, as well as their Christian faith.
"You have to have a moral foundation beyond just the laws of the land, and thankfully for us, we recognize one: Freedom is a foundational premise to our moral foundation," Wells said. "What's your foundation grounded in? GiveSendGo is grounded in freedom because we recognize that's what God gave us.
"If somebody came and said, 'We're against the truckers, we need to raise money to shut it down,' you don't need to know our personal opinion on that," said Wilson. "We have personal opinions, we have the right to have personal opinions, but our platform is going to allow people to raise money for the things that are important to them, whether we agree with them or not."
The company did terminate a Church of Satan campaign to raise money for abortion because it went against their belief of not killing.
Read more at: TheEpochTimes.com